When you run long distances, hydration packs are a must. Not only do you need water, but they're also handy ways to store your nutrition so that you don't end up looking like this.
When I needed a new hydration pack, I thought I'd be smart and save money. I went with a brand I had never heard of, because hey, it got great reviews on Amazon. I tried Camden Gear's 1.5L Backpack……. turns out there's a reason you've heard of Camelbak and Osprey and Marmot and etc.
This pack was slated as a one-size fits all. While it did technically go around my shoulders, it was not snug enough. I still have the chaffing scars.
In lieu of that experience, I bought the Osprey Rev 1.5L pack. I was a bit worried, because I've been accustomed to having a chest clip and a waist clip – and the Osprey has only 2 clips at the chest. I thought for sure this would mean the dreaded chaffing again.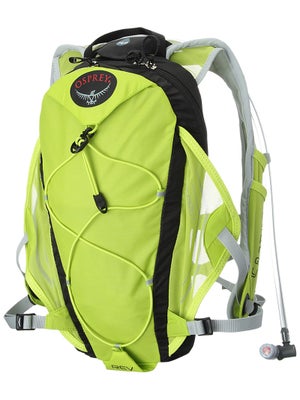 Turns out, the pack is pure bliss. One of the chest clips is attached to the bottom of the pack's front, so it keeps the pack in place. I barely feel the pack when I'm out, which is exactly what you want in a pack. Furthermore, unlike my old pack, where the mouthpiece would bounce around on my shoulder, the Osprey has a magnet that connects the mouthpiece to the chest clip. All you have to do is reach down, sip, and replace – all without having to turn your head. The magnet is strong enough that it's easy to set the mouthpiece in place – you can do so without thinking about it – but not so strong that you can't pull the mouthpiece up for water easily.
Furthermore, there's a nice little tech pocket.
I usually put my iPod in here, because I don't like to run with all the distractions of my phone. The nice parts are 1) you can use a touchscreen through the plastic and 2) you can detach the tech pocket if you don't want to carry anything in it.
The pack has ample space to fit enough fuel for even the longest of runs – bananas, gu, water, fruit snacks – despite its small size and light weight.
Of course, there are a lot of other options out there for carrying your hydration and nutrition with you. Some people like belts. Some like water bottles strapped to their hand. One of the nice parts about running is there's no formula. You find what works for you. But if you're in the market for a good pack, I wholeheartedly recommend the Osprey Rev 1.5L.
*Disclaimer: I wasn't paid to write this review. All opinions are my own.